Career preparation refers to a range of activities that help youth and young adults with disabilities (Y&YADs) prepare for employment. It includes any experiences that help Y&YADs:
Identify strengths and interests;
Understand and explore career options;
Gain hard and soft job skills;
Build resumes and networks;
Develop leadership and self-advocacy skills; and
Earn credentials.
The goal of career preparation is to help individuals with disabilities attain competitive integrated employment (CIE). CIE refers to competitive work in an integrated setting that is performed on a full-time or part-time basis for which an individual interacts or works with other individuals without disabilities and receives the same wage, benefits and opportunities for advancement as employees without disabilities in similar positions.
A key component of career preparation is work-based learning (WBL), which provides hands-on opportunities to experience work. This can include:
Other components of career preparation include:
Career preparation can occur in a variety of settings, including high schools, trade schools, colleges and universities, vocational rehabilitation offices, job centers, other government agency sites, juvenile justice facilities, community organization sites and business sites. It also can occur online.
State strategies for enhancing career preparation for Y&YADs include:
Transferring career preparation services online for Y&YADs (including job fairs and workplace readiness training) to enable access amid COVID-19;
Expanding and improving career and technical education (CTE) courses for Y&YADs, including by providing resources and training to CTE instructors on how to better support Y&YADs;
Bolstering support for college students with disabilities, including facilitating WBL experiences and providing customized and coordinated career supports;
Creating or expanding summer work programs, transition camps and high school transition-to-work programs for Y&YADs;
Developing inclusive postsecondary education programs, designed so individuals with disabilities can continue with academic, career and technical and independent living instruction to prepare for employment;
Expanding leadership programs for Y&YADs; and
Identifying and addressing gaps in delivery of Pre-Employment Transition Services (Pre-ETS), which provide career preparation services to students with disabilities.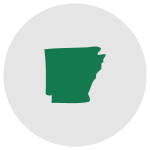 The Arkansas Jump Start Program assists blind and severely visually impaired youth ages 16-21 with obtaining a part-time summer job and participating in educational enrichment activities. It is offered both in-person and virtually and is a collaboration between the Division of Services for the Blind and the Arkansas School for the Blind and Visually Impaired.