According to the Individuals with Disabilities Education Act (IDEA), an assistive technology device is any item, piece of equipment or product system used to increase, maintain or improve functional capabilities of individuals with disabilities. These devices include mobility aids such as wheelchairs, crutches and ramps; technologies such as hearing aids, closed captioning, voice recognition programs and screen readers; and other less-obvious aids, such as adaptive utensils to help with eating, devices that extend a person's reach and automatic page turners, among other tools.
Youth and young adults with disabilities use assistive technologies daily, including while in the classroom. Assistive technologies aid students in accessing both the curriculum and the physical resources they need to have a successful learning experience. For example, speech-to-text software allows students who are deaf or hard-of-hearing to access content like movies, screen readers allow students with visual impairments to access instructional content such as websites, and switches allow students with physical disabilities to operate computers and other educational tools and devices.
Access to these technologies has become even more critical during the COVID-19 pandemic with the resulting move to distance learning. Many school districts are struggling to ensure students have access to computers and reliable internet in order to access virtual instruction and tools. In addition, districts must find a way to ensure that assistive technologies that are available to students in the classroom — such as adaptive keyboards — are available to students at home. As an additional challenge, the virtual platforms used for distance learning — including Zoom and Skype — are not always compatible with a student's existing assistive technologies, such as screen-reading software for students with visual impairments.
States across the country are adapting in various ways so that students can continue to access educational content using assistive technologies or effective substitutes. Here are some examples of those efforts.
Offering ideas for how to apply and replicate traditional accommodations in a remote setting, particularly by using free online resources and apps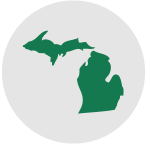 The Michigan Department of Education shared numerous assistive technology resources for families, students and teachers. These online resources offered by the Michigan Office of Special Education Grant Funded Initiatives include tools to support reading, writing and math for all grade levels and a variety of student needs.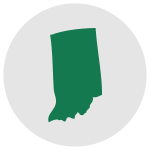 The Indiana Department of Education published a document that contains a list of remote learning accommodations that can be employed for a variety of situations and to meet the needs of students with disabilities. This comprehensive resource lists a variety of accommodations that a student might need and provides suggestions for remote accommodations to support the student. For example, if a student utilizes word prediction software, the document suggests informing parents on the use of Co-Writer or other built-in word prediction software and points them to written or video instructions for enabling these programs on devices.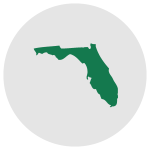 The Florida Department of Education created a similar resource spreadsheet to help students and families adjust to online learning. The spreadsheet offers over 70 tools for families to utilize while continuing education at home including front-loading digital content, text help tools and Google Chrome extensions.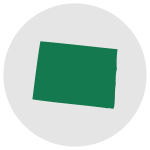 The Colorado Department of Education created web pages that include assistive technologies to support schools, teachers, parents and students with specific disabilities such as visual impairments, hearing impairments or brain injuries. These resources are intended to improve access to education during distance learning for students with disabilities.
Making assistive technology directly available to students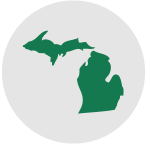 The Michigan Department of Education offers access to the Alt+Shift Lending Library, which allows educators to check out assistive technology equipment and software and ship it directly to a student's home address.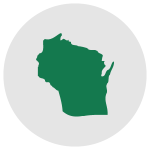 Wisconsin's Assistive Technology Program, WisTech, loans assistive technology devices to people with disabilities, their families, service providers and employers. The program works with people of all ages and disabilities and provides devices in all areas of assistive technology, including daily living, hearing and vision, computer access and more. Amid COVID-19, WisTech has also encouraged Wisconsin's Aging and Disability Resource Centers to apply part of their COVID-19 economic stimulus funding, provided through the CARES Act, toward expanding their assistive technology offerings.
For more information on how states utilized assistive technology to ensure service provision for youth and young adults with disabilities during the COVID-19 pandemic, please visit X. webpage.
Assistive Technology for Virtual Learning: The Association of Assistive Technology Act Programs describes how Assistive Technology Act Programs can work with State Education Agencies during COVID-19 to support distance learning for students who require assistive technology and adaptive equipment.
History of Assistive Technology Legislation: This section of the Administration for Community Living's "Authorizing Statutes" page summarizes the history of federal legislation designed to increase access to assistive technology devices and services for people with disabilities, to support them in learning, working and living.
Breaking Down Technological Barriers: This brief from the National Collaborative on Workforce and Disability for Youth (NCWD/Youth) provides an overview of federal and state accessibility laws that make assistive technology available to people with disabilities.
Continuity of Learning During COVID-19: The Department of Education's IDEAs That Work website offers information, tools and resources to help educators, parents and families and related service providers meet the educational, behavioral and emotional needs of children and youth with disabilities through remote and virtual learning. In addition, users will find several information briefs on evidence-based and promising practices designed to support continuity of learning for students with disabilities. Viewers also have access to a searchable database containing resources and information for educators, parents and families and related service providers to support students with disabilities.
Center on Technology and Disability: The U.S. Department of Education's Office of Special Education Programs (OSEP) funded the Center on Technology and Disability, which is designed to increase the capacity of families and providers to advocate for, acquire and implement effective assistive and instructional technology (AT/IT) practices, devices and services. The library of resources provides a section of transition resources.