By: Sydney Blodgett
Observed each February, Career and Technical Education (CTE) Month® celebrates the importance of CTE and the accomplishments of related programs across the nation. The Association of Career and Technical Education (ACTE) explains that "CTE is education that directly prepares students for high-wage, high-demand careers. CTE covers many different fields, including health care, information technology, advanced manufacturing, hospitality and management, and many more. […] CTE encompasses many different types of education, from classroom learning to certification programs to work-based learning opportunities outside the classroom."
CAPE-Youth recognizes that CTE accessibility is important for youth and young adults with disabilities (Y&YAD). While all students can benefit from participation in CTE, it is an especially effective career pathway for Y&YAD. Research demonstrates that CTE leads to improved graduation rates and employment outcomes for Y&YAD. For example, students with disabilities (SWD) who participate in 4 or more CTE classes are 20% more likely to be employed after graduation.
However, Y&YAD can face challenges accessing and succeeding in CTE programs, such as CTE facilities that are unequipped to accommodate students with physical disabilities or inadequate CTE instructor training on supporting SWD. The COVID-19 pandemic further exacerbated these challenges. CAPE-Youth recently published a policy brief entitled Promoting and Maintaining Career and Technical Education for Students with Disabilities: State Strategies Developed During the COVID-19 Pandemic. This brief describes how states were able to adapt resources to address challenges SWD had accessing CTE during the beginning of the COVID-19 pandemic. Furthermore, it shares how states have expanded CTE access for students with disabilities. The brief offers policy considerations for states, including:
1. Strengthening interagency collaboration to maximize resources, address inequities and streamline CTE service provision.
2. Using federal funding to leverage and provide technology to expand access to CTE for SWD.
3. Offering stackable credentials to facilitate employment opportunities.
4. Increasing CTE instructors' capacity to serve SWD through professional development opportunities.
5. Improving data collection efforts to identify and address CTE access challenges for SWD.
Access a recording of CAPE-Youth's webinar highlighting its CTE brief and featuring state leaders here: Promoting Career and Technical Education for Students with Disabilities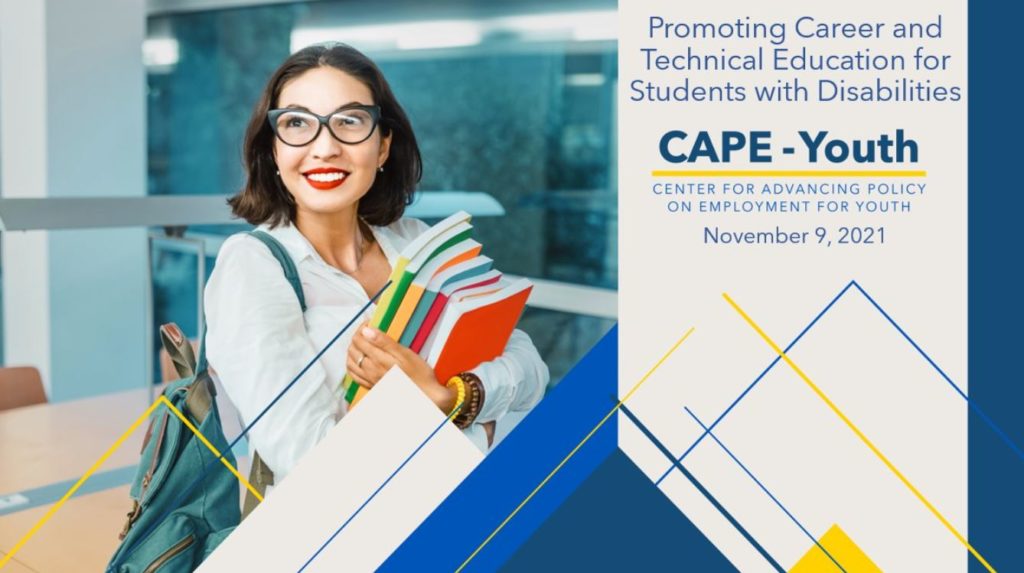 In addition, CAPE-Youth will present Inclusive Workforce Readiness: Apprenticeships for Youth with Disabilities at the upcoming ACTE National Work-Based Learning Conference.
Learn more about how to engage in National CTE Month at acteonline.org/why-cte/cte-awareness/cte-month/.